ISTE 2017 – Ignite
ISTE Ignite sessions are when presenters get five minutes, and 20 slides, all set on a timer to do a presentation. It is really fun, really short, and you get a pile of great topics in a short period of time! Sometimes the talks aren't great, but you know it will only be five minutes. Sometimes the five minutes is up, and you feel like the presentation is just beginning!
AR & VR to MR – Jaime Donally
No Real World, digital. Can be recordings, can be digital rendering, etc. What is MR? Merged Reality – Mixed Reality. Interact and manipulate real world.
AR adds a layer, whereas MR figures out where you are and adds more. She feels this is a game changer, where you can change your classroom into a digital playground. Now uses 3D tracking and even does facial recognition. Take a 360 and make it informative, and creative. Classroom Hololens for the price of an iPad, from Microsoft.
CoSpaces, MergeCube (hologram cube).
#ARVRinEDU
Bonnie McClelland @BMcClelland24
A Gingerbread man taught my Kindergarten class the 4C's. Kids made gingerbread cookies, and one went missing over night, posted a notice to Twitter. Received a false positive when kids in Chicago saw their notification. Another time got a picture from another school, in another town, with a team of eighth graders they were working with. Kids got to chat and interact with the other kids.
Kids used Seesaw to create a story in their digital portfolios. Used Padlet to explore. A week later the kids saw tweets with the gingerbread man on the way home, with pictures of where he was at.
Since then the gingerbread man has traveled around and has become a model.
Curran Dee @CurranCentral – student
#bethatKINDofkid
I want us to ask ourselves every day, how are we using technology to make a real difference in people's lives? – Barack Obama
How can you be that kind of kid offline? The name on the front of the jersey means more than the name on the back.
Curran had a lot of great content, and spoke so well, I didn't get the greatest notes. Check out DigCitKids
All it takes is one, one person to stand up, speak up, and make a difference.
Patrick Donovan @donovanscience
We can now make it accessible for all!
We know all kids aren't clones, they all work differently. Students can use all kinds of technology to help overcome challenges that they have. Patrick had a hearing problem, and had to get a hearing aid to help him in school.
Some of the tools, like Text to speech make a world of difference for kids today. OpenDyslexic font. Color Enhancer chrome extension. Youtube transcript and closed captioning tools
We should use whatever tools we can, and design around accessibility!
Antha Holt
PD in the Wild – Time to breakout of traditional PD. Student engagement is low. Disengaged Learners: not doing great.
What is the answer? Not just technology, but effective PD. But it's hard because lots of PD is Sage on the Stage, and it's not great. Meaningful PD can include Peer Coaching, but challenging to make the time, or get help on your topics. Fortunately there are conferences like ISTE that help.
Then there are those that go out on their own.
What about BreakoutEDU?
aholt@mccleary.wednet.edu
@GriffyHolt
Austin Tong (student)
Student Choice in Technology iPads, Minecraft, and Digital Tools
Personalized Learning – Austin is interested in sports, hockey, baseball, traveling, and Harry Potter.
Creating Engaging Work – students want work that is creative, challenging, and satisfying.
Adding iPads made it more interesting for kids, but just because you use a certain app, doesn't make it engaging for all kids. YouTube is also great, using Kerbal Space Program.
Pocket Planes is another great app, helps learn all kinds of great stuff. Plague Inc – Geography and Science Hopscotch – Coding, Game Design Brain Pop – I can learn anything! iMovie, Pic Collage, Showbie
Sometimes no tech is best – technology is a tool, and you have to find the right tool for whatever the lesson is.
Know who your kids are! You can't create work that teaches all the kids all of the time, but you can reach every kid sometime
Holly Clark @HollyClarkEdu
Kids can't believe how hard it was when we were kids and had telephones with cords, and cameras with films, and TV's with a knob, rather than a remote control, go to the music store to buy CD's, or cassette mix tapes.
Kids are not so much tech savvy, but tech dependent. They don't consume on one device, they consume on five.
Holly was hilarious and talked about the changes, oh, the horrors that we had to go through that kids can't understand.
Kids heroes are from their own generation.
Change Your Mindset
Kerry Gallagher @KerryHawk02
This is Your Brain on Technology
The Senior Class Prank – setup hotspot clusters to try to disrupt the wifi, wasn't successful because the wifi was so important to the rest of the kids.
Common Sense Media says parents are starting at screens 7 hours per day, teens 6 hours, and tweens 4 hours.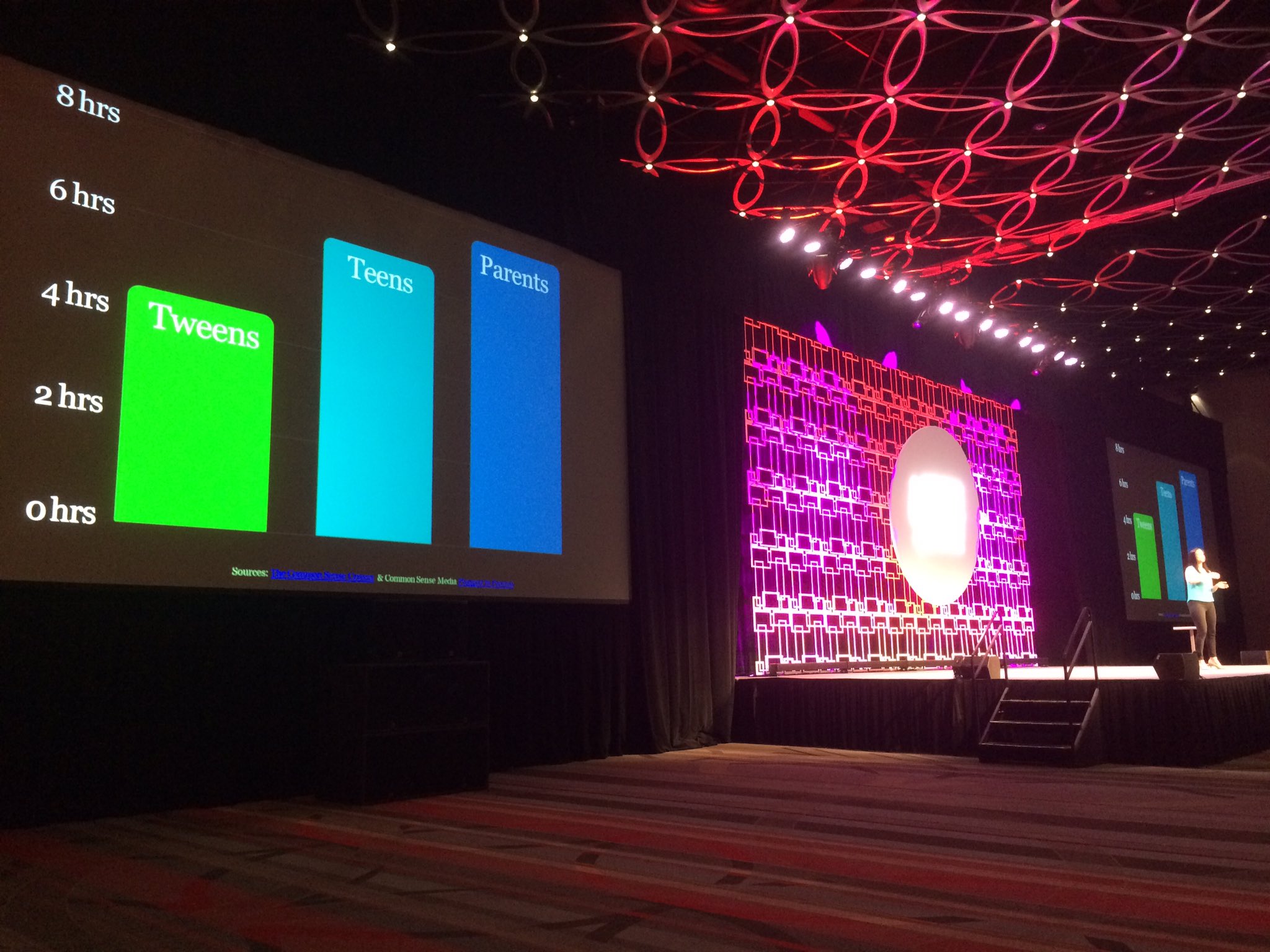 How do we teach the kids to use their screens in healthy ways?
This is your brain – use it well!
Pablo Hernandez (student) @SteamNerds
Started a STEAM club to code robots at school, but as a second grader couldn't join the 5th and 6th graders. His Mom was the teacher, so let him join unofficially. By 2nd semester he was a junior instructor showing older kids how to use advanced features. He decided to create his own STEAM club.
Don't wait for opportunity – Create it!
I have not failed. I've just found 10,000 ways that won't work. – Thomas Edison
Found a college professor who was willing to work with kids, and started a coding camp.
The moment when you want to quit, is the moment when you need to keep pushing.
What would have happened if he had allowed people to tell him he wasn't old enough to learn code.
Tiffany Lucey @TiffanyLucey
Teaching for Social Justice
Want to look at the connection between individuals and society and how to make it better for all.
When you see an idea that works, share that idea – be the ripple!
Tiffany talked about how to connect with your elected officials and lobby for improvement. Be an advocate. Think about what you can do to make life better.
Belinda Tang (student)
Founder of Studio1ne – creating a group for individuals passionate about film making. School didn't offer anything, so they made their own opportunity.
How do we help our school and community?
Kim Pollishuke @KimPollishuke
Unlock the Potential – How BreakoutEDU is shifting mindsets.
We have to remember to depend on each other more, and support each other more. We're good at doing things by ourselves, but we have to realize we don't have to do them alone. Working in isolation is a thing of the past, and Breakout supports that.
Engaging in a Breakout is not innovation itself, but the skills you need are inherent in an Innovators Mindset.
We are allowed to have fun in our learning, not just the students. Trying something different can transform a classroom.
Studios, Not Classrooms: How to Rethink Learning, Bill Selak
Words matter. Classroom has a lot of baggage attached to it. We have a lot of expectations around what should happen in a classroom. But should it be like that?
Starbucks wants to be the third place after home, work, that people want to be in.
Imagine sitting Cemetary Style…;)
Hillbrook Way
Ask, Start, Collaborate, Show
Reimagine Classrooms – figure out what works, what doesn't work, and share via podcast. What if it's more than just furniture? Start with flexible furniture. Only makes a difference if you put student choice at the centre of everything you do.
The 21st Century has been here for 18 years.
Learning is Less task-based, More collaboration. It's noisy. It's messy. Less of the teacher, and more of the student.
Less passive, more creating
Students need to be writing books, making movies, publishing books, distributing movies, sharing their thoughts ideas and projects with the world.
Redesigning School: Lessons From the Wild Kingdom, Donna Teuber 
@dteuber
Just because you learned it in school doesn't mean it's true.
The only thing that interferes with my learning is my education. – Albert Einstein
Are we teaching the skills of yesterday, to the students of today and tomorrow? Picture us sitting gorillas in desks at school – it's really silly, we'd never do it…
Perseverance (rhino) – you keep going, you give them more chances.
Problem Solvers – like the crow, they can figure it out
Adaptation – school needs to change, or we're going to be extinct. Lizards can adapt to current situation
Diversity – so important where bias leads to hatred, need to be mindful to respect and appreciate our differences.
Teamwork – opportunities to collaborate
We need to re-focus, and re-design from a different lens.
I am not a failure!, Xavier Zeller – student 
For six years he couldn't figure out how to be successful in school. Within ten minutes of the year starting he was frustrated.
School made some changes, and he learned to solder, and some hardware, and then coding with minecraft and raspberry pi. 3D printed a fidget spinner. Made a t-shirt shooter as a class project, and it worked, and he got class credit fr it.
He reads at 12 grade level, but he thought he was failing.
I was not failing, the system was failing me.
Xavier challenged everyone to take what you learn at ISTE Conference, and use it!
Stop Banning the F Word at School, Nathan Kraai @njkraai
FUN! What if every day was like the last day of school?
What if students were bursting down the school doors to get in? Fun and school does not have to be mutually exclusive.
Compliance does not equal engagement
There is this obsession with seriousness in schools….
School should not be an anomaly , but should be fun.
Don't hesitate to make moments of joy in your classroom. Bring fun and integrate it into your curriculum.
Transform your room to a place where imagination and fun can happen. Let's "F-up our classrooms"
My #ISTE17: Walking Away a Better Leader, Kyle Hamstra @KyleHamstra
Learners come first. Technology is a tool. You must have heart. Leadership is about people, and their learning comes first. Time to transform our what if to what is. It's not about the technology, but changing how learning and technology takes place.
Three Critical Concepts for Succeeding with Educational Technology, Jeanette Salinas @JeanetteEDU
1 in 5 kids suffer from a mental illness. Only 1 in 5 of those will get treatment.
Pitfall #1: Technology Motivates – be a coach, but praise and encouragement strategies help to minimize failure. Badges, certificates, points district from learning, and limit. Plussing
Pitfall #2: Technology is Supportive. Typically supports academic achievement. Studies suggest an increase in screentime, limits the childs ability to read social cues and facial cues. What's in your toolbox?
Pitfall #3: Technology is Adaptive. But does it pivot or change strategies if it's not working for the student.
What can we do? Reframe failure.
Amateurs sit and wait for inspiration, the rest of us just get up and work – Stephen King
Consequences Awareness: How a Game's Narratives Teach Social Consciousness and Peaceful Resolution, Harlan Baskin- student 
How a game's narratives teach children resolution as a part of society.
Undertale – teachers peaceful resolution to conflict. It was overfunded. Every character was easily relatable. Different things happened based on the decisions for the player. As the player decides to be more peaceful or more violate, the world changes around them.
You can choose to follow paths, Pacifist, Neutral, Genocide.
Pacifist ending provides resolution to all conflict, allows your character to be happy, along with all of the others.
Neutral has many options and many different branches. You can get a different ending depending on which characters you take mercy on or you destroy. In the end, it only provides closure for the player.
Genocide is where you must destroy everything in your path. No one gets closure, it leaves the player unsatisfied, not exactly understanding what happened. Teaches you the effects of your bad choices.
Connecting Globally and Locally as Educators, Derek Larson @lars3eb
#utedchat – Wednesday at 9 PM
bit.ly/eduvoxlist – Voxer
#edumatch
PassTheScopeEDU.com #passthescopeedu
Not sure what Derek's point was – could be disconnected, could be something more connected.
Integrated Coaching: Introducing the Library, Technology and Instructional Coaching Team of 3, Tara Linney 
Start with why? Why is library time in a silo, one time a week, or every other week when they can come and check out books. Why is there a computer lab that we go to once in a while?
What if? Turns Why into a possibility. If we talk about Why all the time, people will see it as a complaint.
What if we turned the tech block time into student-led inquiry time?
Using the incredible ISTE Student Standards
How? Work with the willing. Not everyone will be on board with everything all the time. You meet people where they are at, and then create opportunities. Students can share their learnings with each other.
A Case for Authenticity, Immediacy, and Delight in Today's Education Technology, Reshan Richards
User experience design is not just to solve a problem, but generate new value.
Authenticity – people want to know that their learning interactions are driven by a person, not a machine. Goal is to strengthen relationship between student and teacher.
Immediacy – act on something at the moment when it's most meaningful. When students create media, they almost immediately replay it again. Typically review a selfie before you post it. Not about attention span or instant gratification.
Delight – Joy leads to successful outcomes. Creativity, Connection, Choice. In some situations it's hard to find joy and delight.